Catamaran San Blas
islands Panama
San Blas charter / Private / cabin / panama Colombia Border crossing
Panama Colombia Border Crossing
all inclusive

5 days

sailing trip from

$600

/pers
Including 3 days of island hopping in San Blas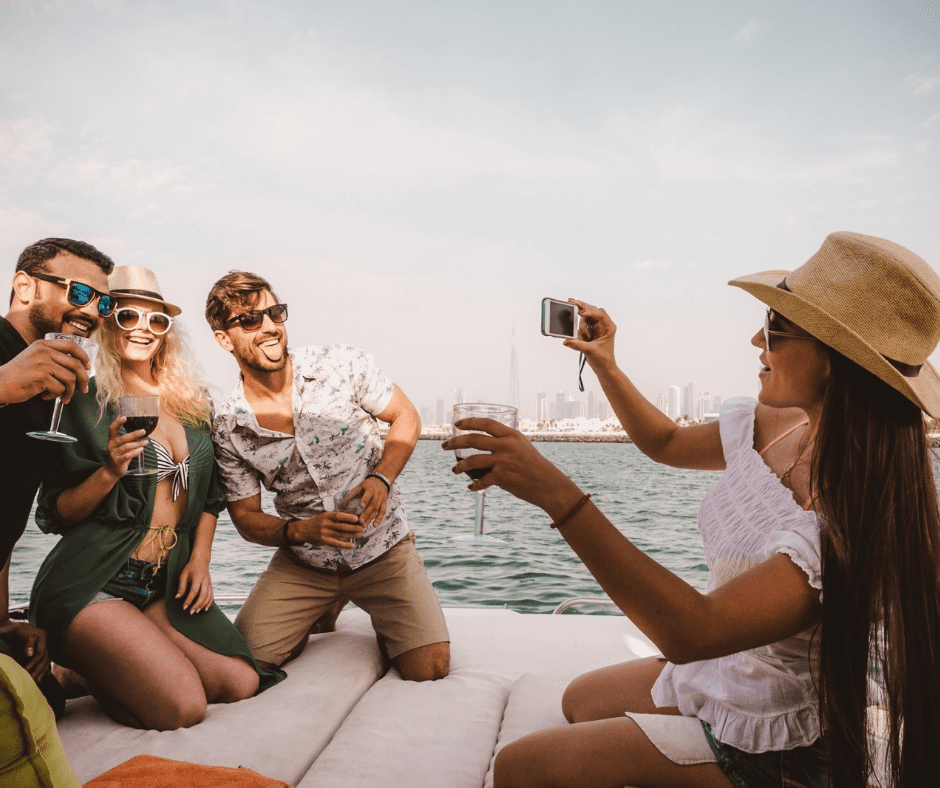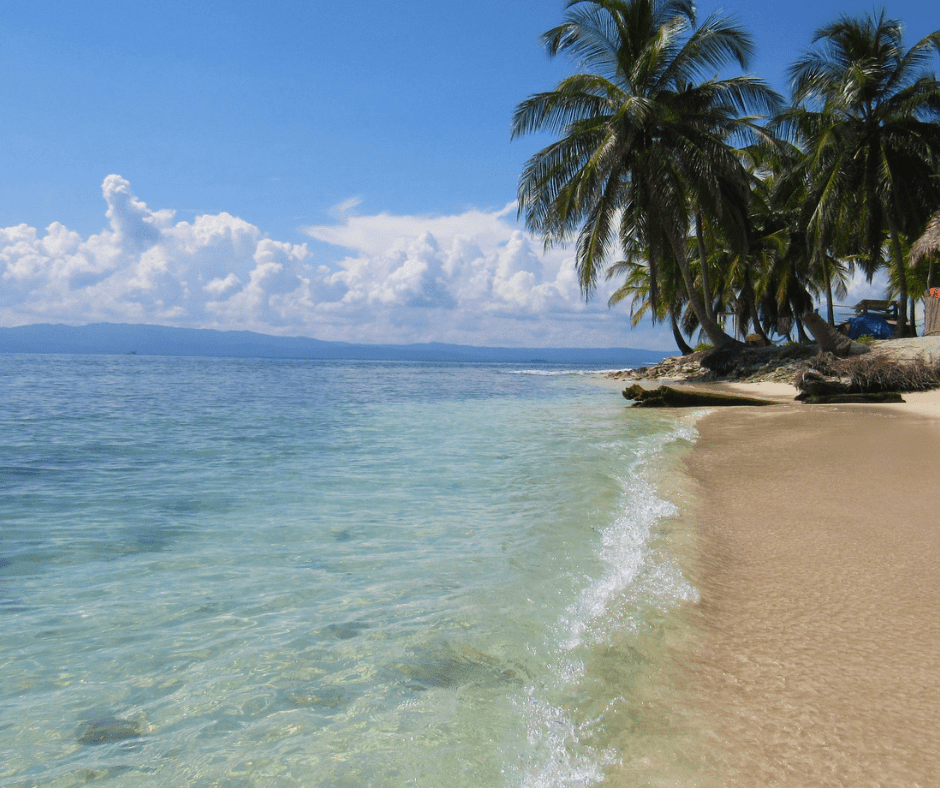 Panama Colombia border crossing!
There are only 2 ways to cross the border between Panama and Colombia.
By the sky or by the sea. The advantage of the plane is obviously speed and a slightly lower financial impact. The advantage of the boat is the memory. It is an adventure. Something unique to live, a marine experience of 5 days including 3 to visit the extraordinary San Blas Islands. The trip is all inclusive, from the moment you set foot on board, everything is included until you arrive on the other side of the border. On the program, of course snorkeling, visits to Kuna villages, fishing, barbecues, fires on the beach. But also real navigation, the ocean as far as the eye can see for 2 days, fishing, star-studded skies, the purest air there is. We have been working for over 10 years to provide lasting memories to our passengers. We can offer you catamarans, monohulls, different standards according to your expectations. The Colombia / Panama passage is obviously in both directions, and if you wish it is possible to organize a return trip with a stopover of a few days in Colombia or Panama to discover the country before returning to your starting point. Crossing the Panama-Colombia border can be so much more than one more flight by plane. Seeing after 5 days by boat the magnificent city of Cartagena advancing towards you is undoubtedly one of the most intense emotions there is. Live the experience of an authentic navigation across borders and horizons. Taste real freedom. We offer Panama / Colombia crossings all year round.
Transfer from Panama to San Blas
How does it works?
Transfer is not complicated, but it needs organisation.
It takes 3 hours and it needs a land transportation and a water taxi too, to get to your destination. There are timetables and rules to follow. Starting with the vehicle. only 4×4 are authorized to circulate on the territory of Guna Yala.
There are also schedules to respect for the water taxis. Departures are only at 8h/8h30am. It is for this reason that your taxi will pick you up at 5am, "ready to go" at your hotel in Panama.
if you don't want to wake up before the sun comes up, it is also possible to rent a cabana in an ecolodge a stone's throw from the territory of San Blas:
The Fertility Waterfall Farm is located just 11 km from the border of Guna Yala, which allows you to wake up with nature, the taxi will then pick you up around 7:45 am to take you to the water taxis. The fertility waterfall farm offers 5 private cabins for rent with views of the green mountains. the altitude makes the heat much more bearable and guarantees "mosquito free" accommodation.
If you wish, we can take in charge the transfer, by putting you in contact with our partner "Judy". She is reliable and has ensured the proper functioning of 30 taxis and a dozen water taxis for more than 15 years.
Transfer from Panama to San Blas cost around $125/pers round trip (depending of the different options)it is also possible to go to San Blas by private plane. let us know by email or WhatsApp if you want to book a plane.
Why sailing San-Blas with a Catamaran ?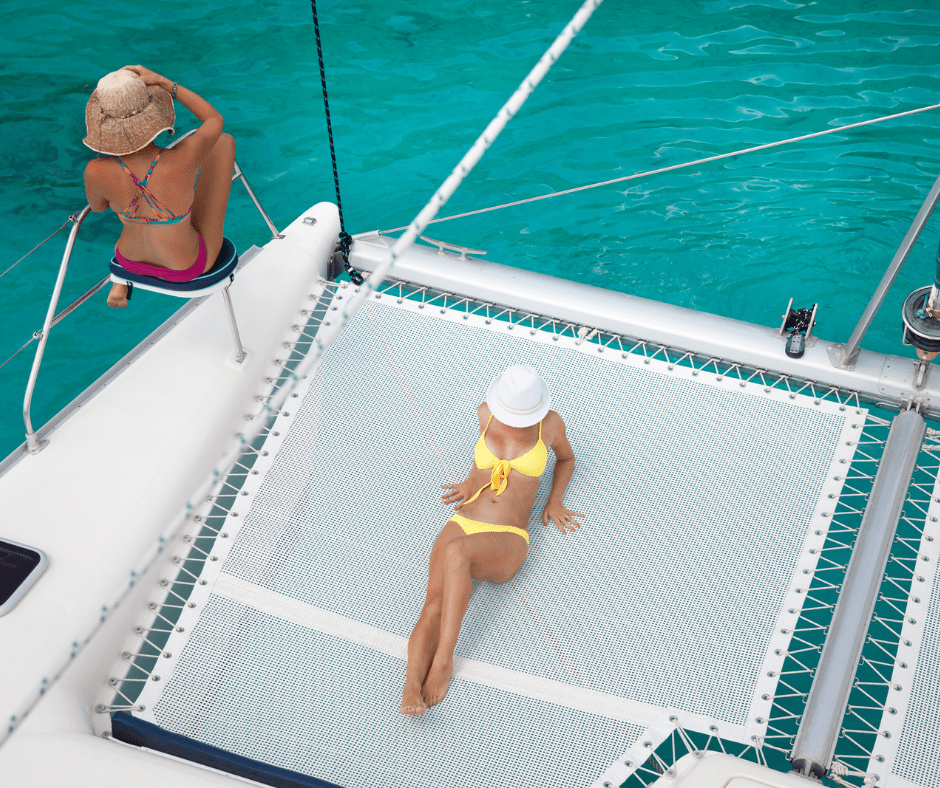 San-Blas is composed of 370 different beautiful islands, boasting of white sand and coconut trees, all surrounded by crystalline water. Whether you're lounging on the beach or gliding through the water, the beauty is impossible to miss. So why not enjoy an even more immersive experience?
Don't isolate yourself to one island experience – get them all! A San Blas catamaran private charter offers a comfortable, speedy way to navigate between all of the San Blas Islands for maximum luxury. The fun doesn't stop there. On-board a catamaran, you can:
Laze on the front nets

Admire the view from on-deck or underneath the cockpit shade

Drink cocktails on the flybridge couch

Enjoy large cabins and private bathrooms
Trust in our top-notch security and guided expertise

Enjoy total privacy and ample space to relax
KUNA CULTURE of GUNA YALA (PANAMA)
San-Blas (or Guna Yala) is unique, being the only province of Panama exclusively administered and populated by its indigenous people. This has allowed them to preserve their culture and customs beautifully.
The Kuna people of San-Blas even honor and stay true to their ancestral practices of fishing, hunting, and living off the land. You can find their stories, histories, and the spirit of their people transposed into intricate tattoos, beautiful clothing, and fantastical paintings.
With our San-Blas private charter, you can enjoy a glimpse of this yourself and learn more about these thriving cultures.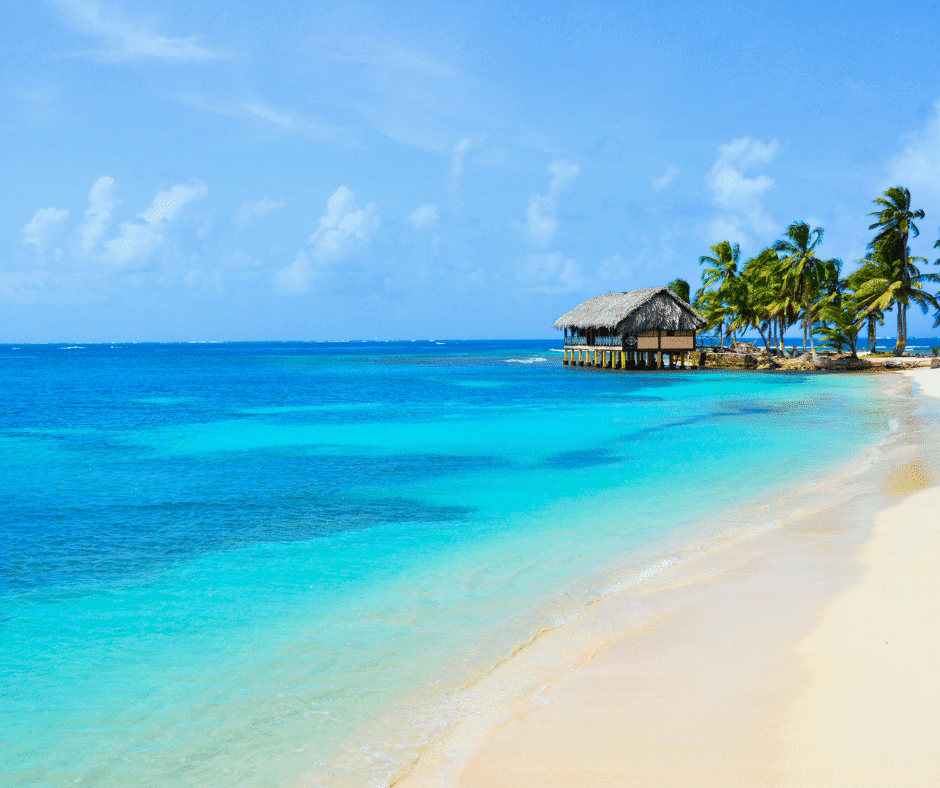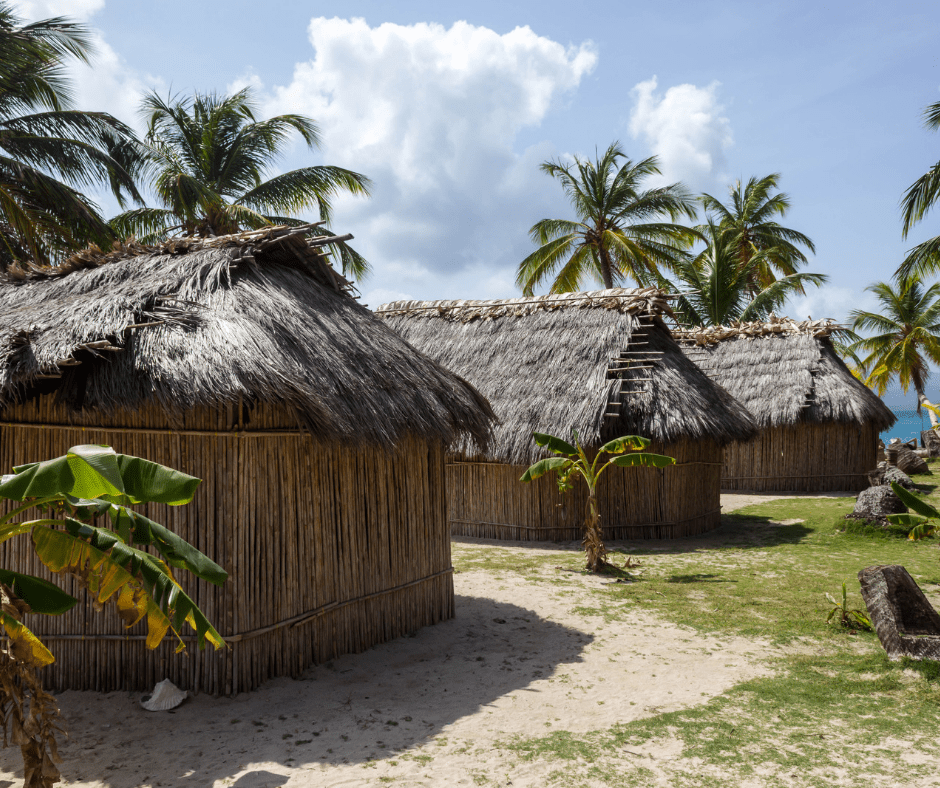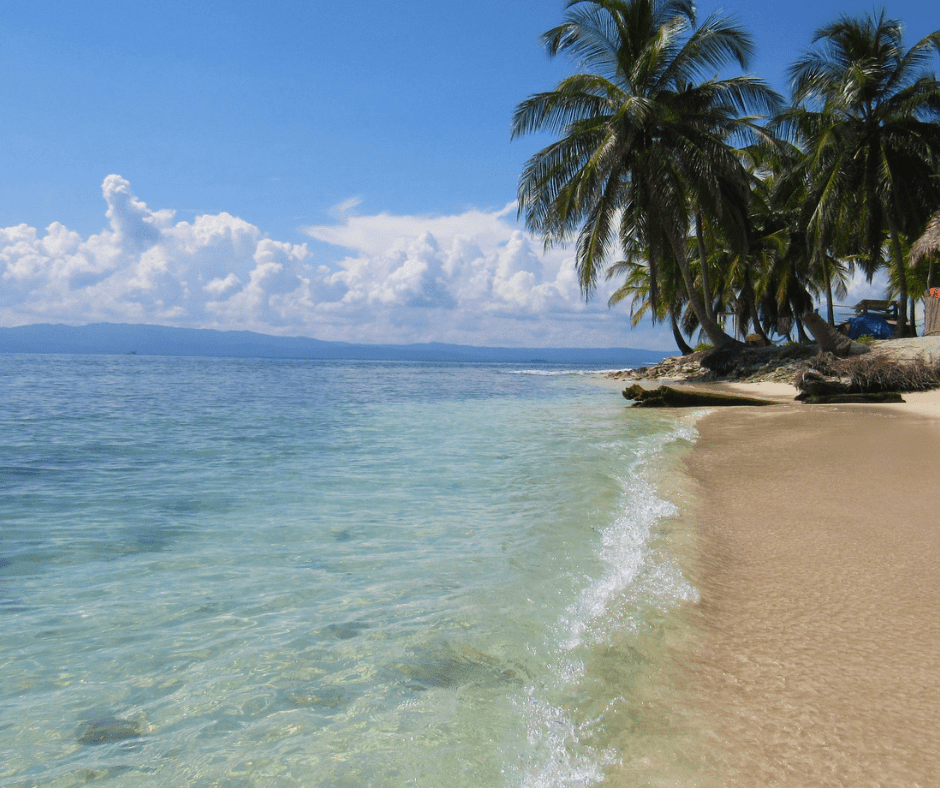 San Blas, Panama, is one of the best-preserved havens for nature found anywhere in the world. You can enjoy extraordinary snorkeling in crystal-clear waters. The sea wildlife is rich and wonderful to observe. The Kuna people fish with respect for their environment and provide fresh, tasty meals directly from the sea to your plate. This makes it a perfect vacation destination to visit by charter boat – and even better by private catamaran. Strip away modern trappings and plainly appreciate the amazing environment found all around in a catamaran San-Blas trip.
Choose a private charter to San-Blas and enjoy your best vacation ever.
DISCOVER THE MATRIARCHAL CULTURE AND ANCESTRAL TRADITIONS OF SAN-BLAS DURING YOUR VACATION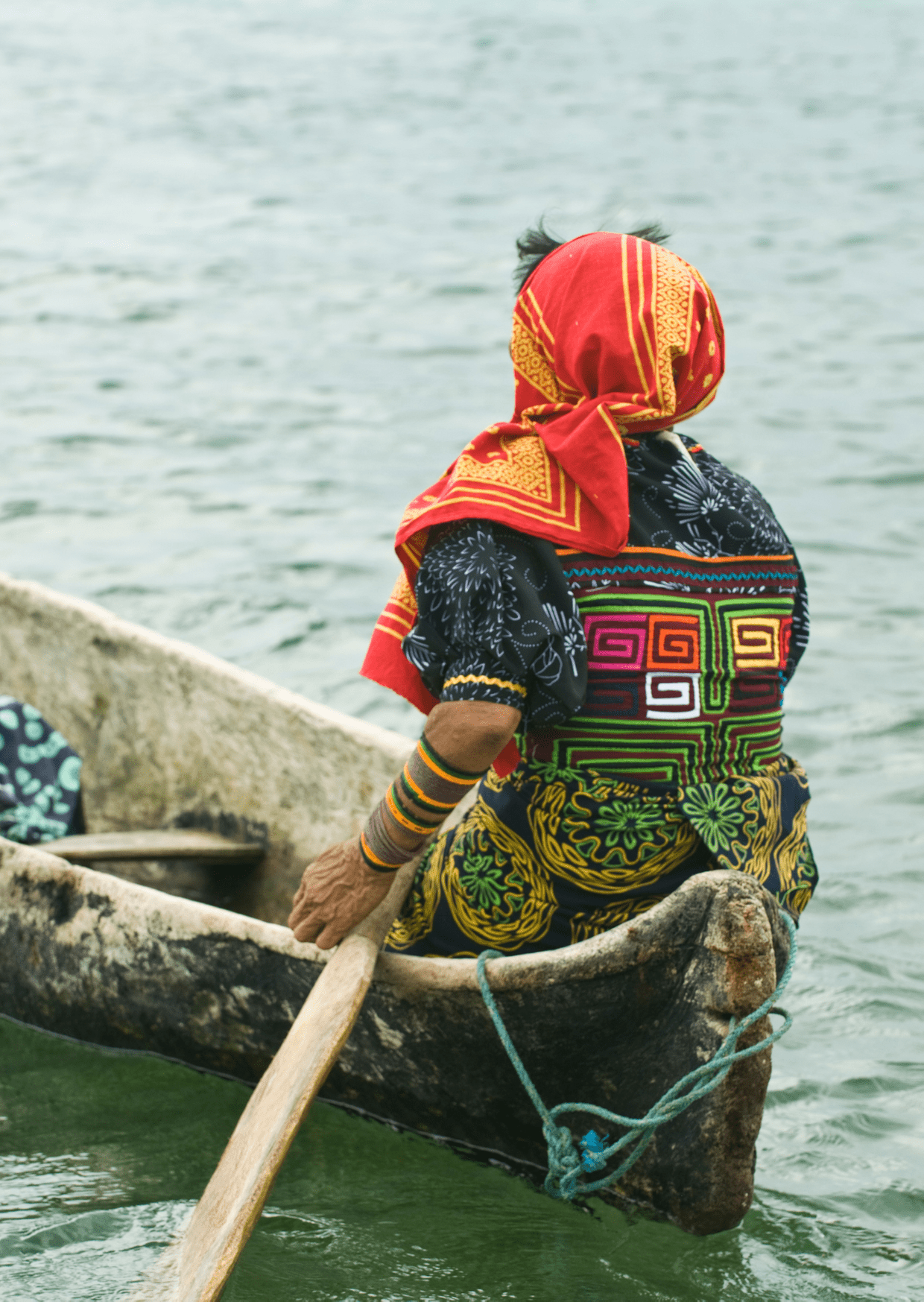 Welcome in Guna yala (known as San-Blas islands) if you ask yourself what can look like a matriarchal community, you should meet the Kuna people. Let me introduce you to one of the few feminist societies of this planet: San Blas. Kuna people is at the beginning a mix between Mayas and Indians of Amazonia. With the arrival of the European inviders they moved from the jungle to the San-Blas islands where they established themselves. They are a matriarchal society. It s may be cliche but it s a fact than their women society is a lot more open minded than the classical patriarchal one. First of all, people of Guna Yala have no idea about what is feminism or matriarchal society, they just live like that since ever. Women never had to fight to have a place and live in real harmony with Male and nature. Women are free to make up, shave or not, wear traditional clothes or not, and breastfeeding where they want because the traditional way of life Kuna, protect them from the sexualization of the women body.
More information about Kunas here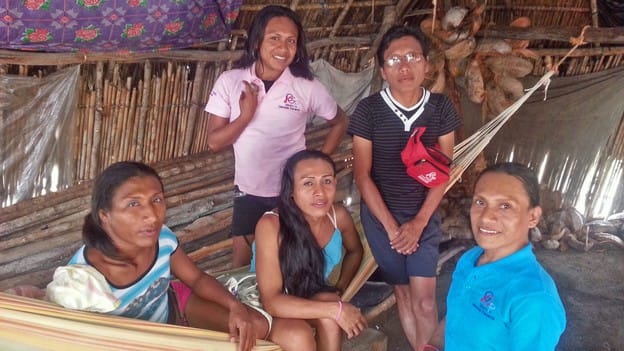 As open minded persons, the San-Blas people also let the kids free to choose their gender without any pression. So it's common to see the ones that the Kunas call Omeggid, what literally mean "like a woman" in the village. This men wear clothes, act and work like the other women of the kuna community. Most of the time male become female, the inverse is really rare, but when it happens, the Guna Yala community accept it the same way. What we call 'third gender' is just completely normal in San-Blas. When a boy show tendencies to act as a women, the family naturally accepts and allows him to grow up as he want. Most of the time they do sewing Molas as work and as the others women, they take decisions. You have to understand that It's not about tolerance, cause tolerance mean that something is not normal, it's just about being who you wanted to be. And it's interesting to see this from our American and European point of view, because the Guna Yala people live it really naturally, when the third gender always bring polemics in our societies. This acceptation is a specificity of San Blas and it's not the same in Panama.
How to make Molas Click here!
More information about Kunas here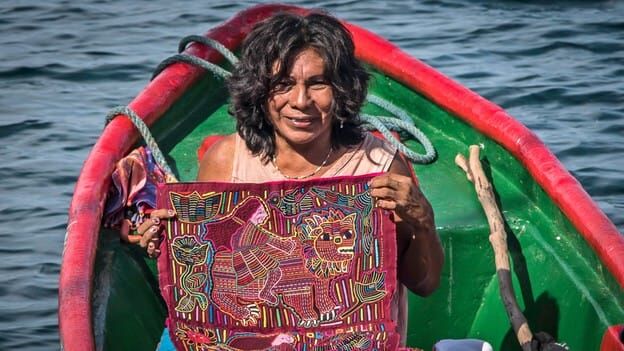 OPEN MINDED KUNA RELIGION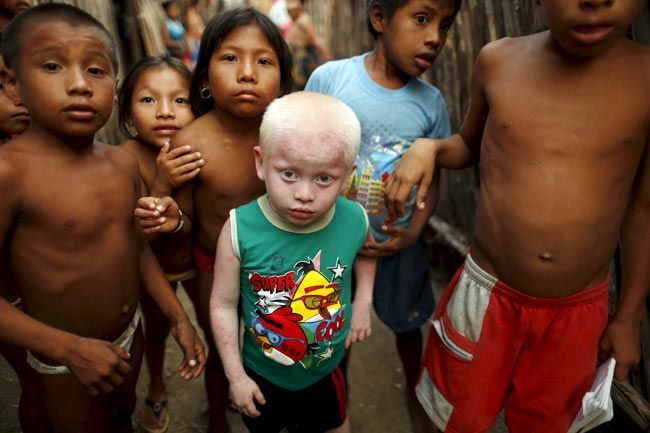 As the Albinism (San Blas is the highest rate of albinism in the world and albinos people are sacred for Kunas), the third gender also have a specific place in Guna mythology, Wigudum was a leader and also one of the three children of God, and was half men and half women. Hunting the day time and sawing the evening. It's important to understand that for GunaYala people Fishing and hunting is considered as the same value than cooking sewing or looking after children: the Gunas do not consider what we call women's labour to be less important and it's an important step for equality. (If you want to read more about tradition in San-Blas you can read our article on GunaYala way of life and kuna culture)
More information about Kunas here
ANCESTRAL GUNA YALA WAY OF LIFE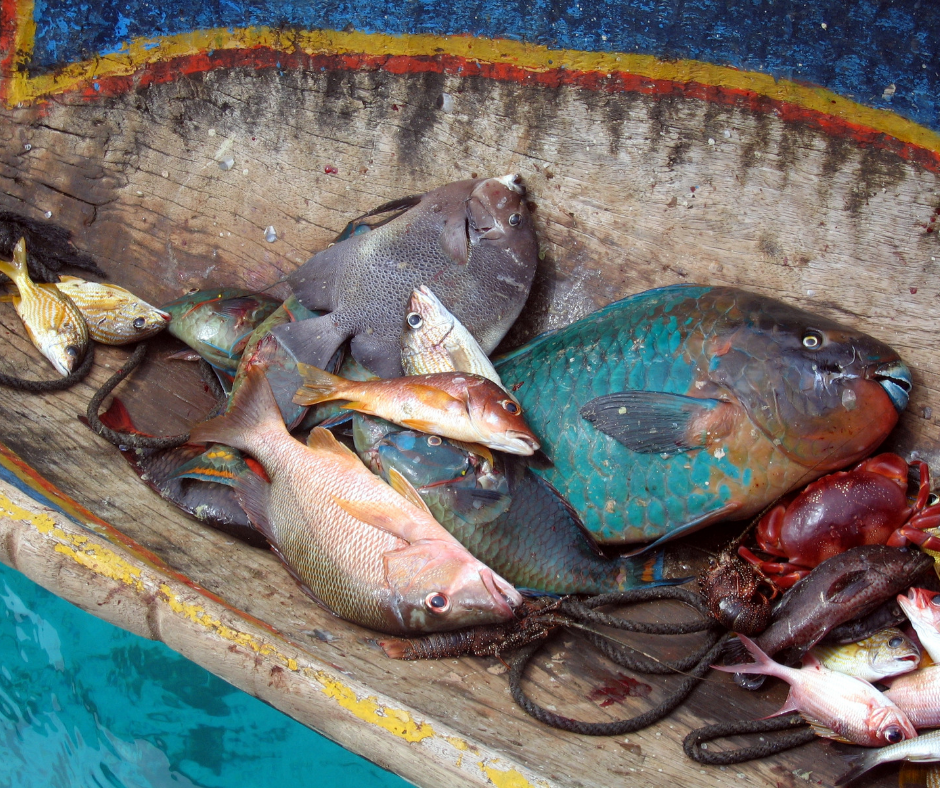 So, the women decide for almost everything but are rarely chef or politics. They let this kind of work to men. They prefer working the extraordinary art of sewing Molas (that also, what bring the better income in the family) when a man become an husband, he move from his parent house to the one of his wife, most of the time the men are fisherman and sale their fishing to the tourists to bring back money home, even before the arrival of tourism they were doing the same with pirates and other boats coming from europe. When the couple have their first childs, they raise them in respect of tradition and if the baby is a little girl the whole village make a big ceremony to celebrate the venue of a new women in the community, an other really important Kuna ceremony is also made when a girl pass from teenager to adult, and at the death of the mother, the heritage of land and house will be share between the daughters of the couple. If you want to learn more about Kuna people, traditions of Guna Yala and albinism in San Blas islands you can read our article about the Kuna culture and their history, you will learn more interesting fact about this surprising community before to visit them.